The above video has been circulating on the internet recently. However, please be informed that the content of the video is not of Gardenia Bakeries (KL) Sdn Bhd delivery truck or employee.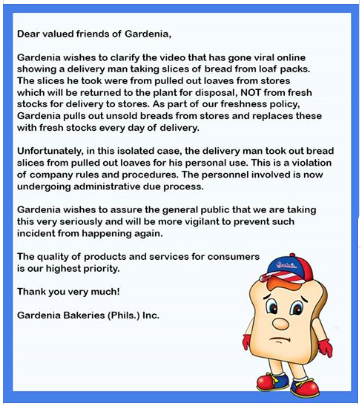 Gardenia Bakeries Philippines has since issued a statement with regards to the video. Below is the image of the statement from Gardenia Bakeries Philippines. 
Please refer to the link below for clarification on the video from Gardenia Bakeries Philippines.
https://www.facebook.com/gardeniaph/photos/a.164302393597509/2872497672777954/?type=3&theater
We would appreciate it if you could forward this statement to your friends who shared the video with you.
If you have any further enquiries, please feel free to contact our Customer Care Officers at our toll-free line 1-800-88-3228.
Thank you.
The Management of Gardenia Bakeries (KL) Sdn Bhd